Cleaning chemical caused Didcot fish deaths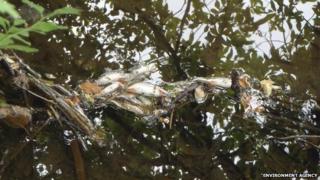 Tests have shown a cleaning chemical or detergent is behind the deaths of thousands of fish in Oxfordshire.
About 250 fish were first found dead at the Moor Ditch in Didcot on Saturday. Fresh counts on Monday discovered about 4,400 had died.
The Environment Agency said live fish were still present, indicating that the pollution had now flushed through.
It said the source of the pollution had been traced from the stream to drains on a local industrial estate.
The agency said the deaths were not linked to the demolition of three cooling towers at Didcot Power Station on Sunday.
Cag Ketenci, Environment Agency team leader, said several different species of fish had been killed by the chemicals.
Severe incident
"These chemicals may be used within cleaning products and industrial cleaners," she said.
"We've narrowed down the source of the pollution to an area of drainage in one of the local industrial estates and our investigations are continuing today.
"It's a category one incident so it's the most severe incident we would deal with.
"We've monitored the water all the way to the Thames and after about 2km (1.2 miles), even on Sunday during the height of the pollution, the water quality seemed to be fine.
"It's now fully diluted within the water table."