Plans to clean dust from Didcot A blowdown revealed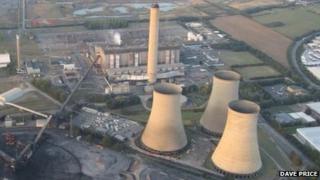 Teams of cleaners will be sent out after the early morning demolition of Didcot A Power Station.
Coleman and Company, the firm in charge of the "blowdown", says the dust cloud caused by the collapse could be blown up to half a mile from the site.
Jet washers and road sweepers will clear the dust from roads, railway tracks and houses, the firm said.
The three cooling towers are due to be brought down with 180kg of explosives on Sunday between 03:00 and 05:00 BST.
Kieran Conaty of Coleman and Company, which will carry out the demolition, said: "We're not here to create a nuisance.
"On the day of the blowdown we will have jet washers and road sweepers ready in anticipation of any dust - but you can't predict where it's going to go."
The firm said it would wash down people's properties.
Any concrete dust and debris which could cause damage to points and signals will also be washed off the nearby railway line in time for the first scheduled train service.
Timing criticised
Residents have raised concerns over possible earth tremors following the demolition.
Mr Conaty said: "The vibration itself is very limited.
"We've blasted tower blocks within 6m of resident areas and there's been no structural failure - we don't anticipate any damage to property.
"There is more vibration from a train or heavy traffic that there is going to be from the cooling towers."
Power company RWE npower has been criticised for planning the demolition for the early hours because local people want to watch the landmarks disappear.
It has advised residents to stay at home, with the windows closed as spectators could be engulfed by the resultant dust cloud.
The firm said it had taken its decision on safety grounds after consulting organisations including the Health and Safety Executive, Network Rail, the Highways Agency, Oxfordshire County Council and Thames Valley Police.
In a statement the power company said: "Explosive demolition can be dangerous if not managed in a professional and coordinated manner; it is with this in mind that we would advise people not to attend the demolition.
"Explosive demolitions can also cause a cloud of dust which will travel in the direction of the wind, which can change at any time."
People have instead been told to watch it online via a webcam.