Oxford Playhouse three-year upgrade begins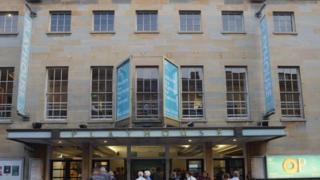 A three-year project to upgrade the Oxford Playhouse has begun.
The £700,000 works will take place each summer for a month and modernise the air conditioning system, worn auditorium fittings, foyer, and bars.
The Beaumont Street venue was awarded £486,300 from the Arts Council's Small Capital Fund towards the refurbishment.
Interim director Polly Cole said it meant it could continue "world class theatre" in Oxford and ensure people could "enjoy its amazing facilities".
Earlier this month Louise Chantal, formerly a producer for the London 2012 Festival and Cultural Olympiad, was announced as the theatre's new chief executive.
The theatre, built in 1938, was last refurbished in 1997.