Didcot towers demolition: Public warned not to attend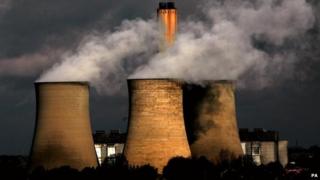 The public has been warned not to attend the early morning demolition of Didcot A Power Station.
Mark Coleman, managing director of Coleman and Company, which will carry out the demolition, said spectators could be engulfed by a dust cloud.
The demolition will be streamed online on 27 July between 03:00 and 05:00 BST.
Despite a petition calling for a later demolition time, signed by almost 3,000 people, RWE NPower said it would not change it because of safety concerns.
"If you have literally thousands of people standing there watching it, you get engulfed by this dust cloud, you literally can't see the person next to you," said Mr Coleman.
"Your eyes are filled with grit, you have difficulty breathing and this is of course why we want to try and deter the public from attending."
'Safety first'
Guy Esnouf, NPower's director of communications, said experts including the Health and Safety Executive, Thames Valley Police and Network Rail had advised an early time.
He said: "We have 180kg of high explosives. That is an awful lot and you clearly don't want people and explosives near together. Safety has to come first."
But on BBC Radio Oxford's Facebook page, Charles Vereker wrote: "There will be lots of spectators, there will be cars on the road, all in the dark overnight. How is this safer than in the light later in the day?"
Christine Louise Conway wrote: "Why can't they be left standing? They're a landmark for people round here."
Didcot Town Council said it could have organised a community event but had not been made aware of the date in time.
A statement said: "RWE Npower clearly don't want to be involved in such an event and without their co-operation it is not possible.
"We hope that the demolition goes off safely and that people are able to mark the moment in a considerate and responsible way."
RWE NPower closed the coal-fired facility in March 2013 after 43 years of service.