Switch on for Blenheim Palace hydropower scheme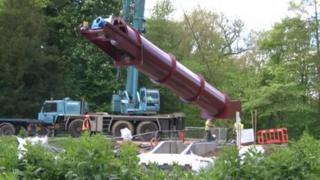 A £180,000 hydropower scheme at Blenheim Palace has been switched on by the Duke of Marlborough.
The project will generate electricity to power the Woodstock palace, home to the 11th Duke and Duchess of Marlborough, and the estate's homes.
Blenheim Palace says it will generate enough "clean electricity" to power the equivalent of 18 homes.
It is hoped the scheme, powered by an 11.5-tonne screw, will save the palace £19,000 to £26,000 per year.
Savings will be used for restoration and conservation projects on the estate.
The 10m (32ft) long, 2m (7ft) diameter "Archimedean screw" was installed in May below one of the ground's waterfalls, by Hallidays Hydropower.
Blenheim Palace is the birthplace of Winston Churchill.