Oxford City Council cannot decide on Jericho shop address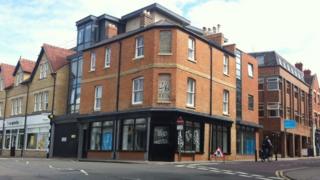 A government inspector is to decide the fate of a shop in Oxford because city councillors could not agree which street it was on.
Owner Shirehall Properties applied for permission for the newly-refurbished unit on the corner of Little Clarendon Street and Walton Street to be used as a restaurant.
Council officers recommended approving the scheme but councillors failed to decide which street it stood on.
The developer has now appealed.
'Bloody obvious'
Members of the council's west area planning committee thought the building, in the Jericho area of the city, could be included in the nearby Walton Street shopping area.
If so, they said there were already too many cafes and restaurants to permit another.
They spent so long trying to agree the shop's address that they ran out of time to decide the planning application.
At a full council meeting on Monday, Bob Price, Labour leader of Oxford City Council, agreed a mistake had been made.
He said it was "bloody obvious" the shop was on Little Clarendon Street.
Shirehall Properties has not yet commented.