Fiaz Munshi guilty of 1997 Oxford arson child deaths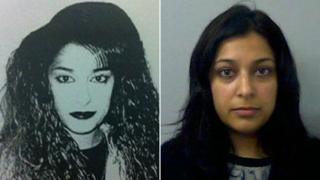 A woman has been found guilty of killing two children in a revenge arson attack in 1997.
Fiaz Munshi travelled with seven others to Amjad Khan's house in Oxford, which was set alight, after he broke off their relationship.
Petrol was squirted through the letterbox of the family home and set alight, killing Amjad's siblings Majid, 15, and Anum, eight.
Munshi, 38, of Oldham, was found guilty of manslaughter but cleared of murder.
She bowed her head and burst into tears as the unanimous verdict was read out after seven hours of deliberation.
Both families threw verbal abuse at each other in court and had to be removed by police and security.
Five people have been previously convicted of the killing.
Billy Akhtar, Amjad's older sister, said the family had suffered for 17 years.
Ms Akhtar said: "For all of us it's closure and justice will finally be done. It's mainly for my mother and my father and I'm so glad that they're well enough to see justice being done.
"All the people who've been around us from the beginning to the end will understand what this means for us and how we've suffered.
"They were just so beautiful, innocent children [who were] taken away from us in a cowardly way."
The court heard when Fiaz Munshi's relationship with Mr Khan ended badly in 1997 she became the focus of gossip and was thrown out of the family home with her sister Riaz, accused of bringing dishonour to her family.
Fuelled by revenge, Munshi travelled with her sister and a group of men from Hertfordshire to Oxford to burn down her ex-boyfriend's family home.
They waited until the family had gone to bed in the early hours of 26 August.
Ringleader Haq Nawaz gave the all clear and two other men, Alan Swanton and Thomas Liedl poured petrol through the letterbox using plastic bottles with holes made in the caps.
During the trial, the jury was told of an error by Thames Valley Police which meant information about Munshi being back in the UK was not processed properly.
Munshi was initially arrested on in September 1997, but was released without charge due to insufficient evidence.
On 9 December 1997 Munshi flew to Pakistan. Just two days later, fresh evidence emerged. Arrests were made and six people were charged with murder.
Munshi later returned on her passport to the UK in 2004.
Lancashire Police told Thames Valley Police about her return in 2005, but the information was not acted on because of a processing error, until the Khan Akhtar family asked for an update in 2012.
This mistake meant plans to question her were delayed by eight years.
Det Insp Craig Kirby called it a "genuine but serious" mistake and said: "I have apologised personally to the family that a mistake made in 2005 meant that we couldn't bring this to justice that bit earlier.
"We do regret the fact that the mistake that happened has led to this delay but that wasn't going to stop us proceeding with this case and facing whatever criticism will be. Because ultimately the right thing to do is what we have done and that is bring Fiaz Munshi to justice."
Five men were convicted of the killings in 1998 and Munshi's sister was also convicted of manslaughter.
Munshi will be sentenced on Friday.