Thame soldiers project: 190 crosses to be laid on graves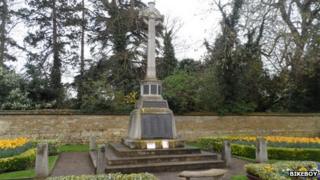 Soldiers from an Oxfordshire town who lost their lives in conflicts will be honoured in a global community project.
Thame Remembers aims to have 190 crosses laid around the world on the grave or final resting place of every man named on the town's war memorial.
A team of volunteers spent four months identifying where they were killed or laid to rest in countries including Iraq, India and New Zealand.
Town councillor Mike Dyer said they hoped volunteers would get involved.
He said: "We will welcome applications from anybody travelling to any part of the world where there is one of these graves or memorials and offering to place on the these crosses for us."
Volunteers will be given a special Thame Remembers two-bar cross to lay on the graves of the men, who died in conflicts in the last 120 years including both world wars, the Boer War and Korea.
Project founder David Bretherton said: "We wanted to mark the 1914 anniversary with something which would involve the community directly in honouring these men and leave a lasting legacy of research and commemoration."
The project will also formally record the histories of the soldiers.