Personality disorder funding cuts 'will increase suicidal acts'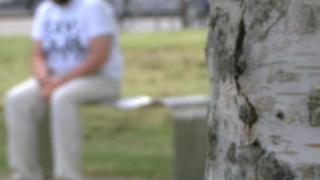 A leaked report by an Oxfordshire NHS Trust has predicted "suicidal acts" will increase when funding for a mental health service is cut by £500,000.
The Department of Health (DoH) funding for the county's personality disorder service will stop in April next year.
The service faces a drop in its budget to £250,000.
A DoH spokesperson said it had funded the service "as part of a pilot programme" and it "was never intended to be a permanent source of funding".
'Complex' problems
The Oxford Health NHS Foundation Trust has been running the Oxfordshire Complex Needs Service (CNS) for ten years.
It offers group therapy sessions for adults who have "complex emotional and mental health problems".
The DoH is stopping its central funding, leaving the service to rely on the £250,000 received from its Clinical Commissioning Group.
In the report obtained by the BBC, Oxford Health estimated that the cuts would mean up to 1,200 extra suicidal acts because of longer GP waiting lists and the closure of groups in Banbury, Wallingford and Witney.
A patient who has been using CNS service since February and who wishes to remain anonymous, said visiting a GP was inadequate for his needs.
"I still feel suicidal occasionally, and when they announced the cuts I wanted to die, I wanted to jump off a bridge and I wanted to start cutting myself again.
"When I went to see the GP he said 'we're now aware of it, come and see me in a month's time'.
"I was like 'I want to die and you want me to come and see you in a month's time for a check up'.
"There's nowhere else for us to go apart from the ground."
A campaign group called Save Our Service has started a petition against the "wholly unjustified and harmful" cuts.