Fiaz Munshi trial: Accused denies 'revenge' blaze which killed two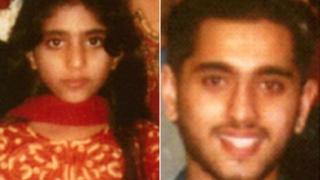 A woman accused of being involved in an "revenge" arson attack which left two children dead said she would "never do anything as evil".
The fire in Magdalen Road, Oxford, in 1997 killed Majid Khan, 15, and his sister Anum Khan, eight.
Oxford Crown Court has heard the siblings' brother Amjad had broken off his relationship with Fiaz Munshi.
Ms Munshi, 38, of Manley Road, Oldham, denies two counts of murder. Five men were convicted of the killings in 1998.
Ms Munshi's sister Riaz was also convicted of manslaughter.
'Caged animal'
Giving evidence, Fiaz told jurors: "I'd never do anything as evil as this. I think they [the convicted men] are evil and sick to do that."
Speaking about her time on remand the mother of four added: "I wasn't allowed to see my children, someone in prison said I was a child killer. My children think I'm abroad.
"I don't feel like a human, people keep staring at me like a caged animal. I'm not here to be looked at. I'm here to be found innocent."
The court previously heard Fiaz conspired to start the house fire as part of a revenge attack after Amjad broke off their relationship, which his family did not approve of.
Fiaz travelled to the Khans' house in Oxford from Stevenage with seven others and conspired to start the blaze, it was said.
'Beat someone up'
The jury was told that petrol in two soft drinks bottles was squirted through the letterbox and then set alight at the family home in Cowley, Oxford, shortly after 03:00 BST on 26 August 1997.
Seven people were in the house at the time and five had to jump from the first-floor window to escape.
The court heard on the night of the fire Fiaz thought they were going to Oxford to beat someone up.
When asked if she knew about any plans to set a fire she said: "No not at all - if I had known about it I would never have gone with them."
She also denied going on the run to Pakistan four months after the fire saying: "I'm not guilty of murder, I've done nothing wrong, I've got nothing to hide."
Prosecutor Neil Moore previously said Ms Munshi was "exceptionally close to the plan and it was inconceivable she wasn't part of it".
The trial continues.