Criticism over Cassington free Bartholomew School bus cut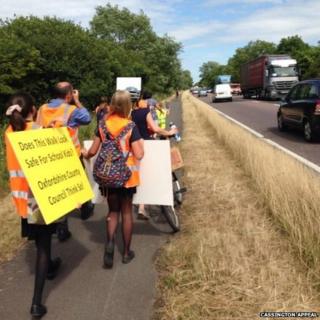 Campaigners have criticised the decision to end a free school bus service for pupils at a school in Oxfordshire.
The county council has deemed the route to Eynsham's Bartholomew School safe for children from Cassington to walk or cycle.
Members of the Cassington Appeal argue the A40 route is dangerous.
The council said it was working with the school to help families find other options.
'Serious concerns'
Lionel Bolton, one of the parents involved in the campaign, said the decision meant children would have to walk "alongside the 60mph, unlit, unprotected A40".
In some parts, he said the path was "right up against the road".
"We have serious concerns around the risks posed to the children by the traffic and by the cyclists along that route," he added.
Jim Leivers, Oxfordshire County Council's director for children, education and families, said the route had never been judged unsafe by the authority.
He said the council had faced a 40% reduction in the level of funding over the last three years.
"What we are not saying is children have got to walk this route," he said.
"What we're saying is we will not pay to allow children to go on a bus if parents can afford to pay."
About 30 families will be affected when the bus service is withdrawn in September, and Mr Leivers said they have the right to appeal against the decision.