Jayden Parkinson murder: Ex claimed he was 'celebrity'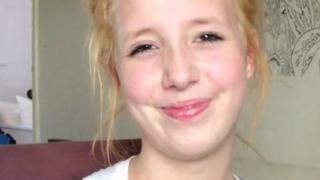 The ex-boyfriend of a murdered, pregnant teenager told a prison worker he was a "celebrity", a jury has heard.
Ben Blakeley, 22, who admits dumping the body of 17-year-old Jayden Parkinson in his uncle's grave, made the comment after watching himself on the news.
Jayden was last seen alive with Mr Blakeley on the afternoon of 3 December in Didcot, Oxfordshire.
Mr Blakeley, from Reading, admits manslaughter but denies murder.
He also admits perverting the course of justice.
Jurors at Oxford Crown Court heard statements from staff at Bullingdon Prison, including one from Cally Brinsley, clinical lead and head of outpatients.
In her statement she said: "He wanted to watch himself on the news, with himself on TV.
"He said: 'I am a celebrity now, miss'. He also said 'I will tell you where she is'."
The court also heard newspaper cuttings were found in a Bible in Mr Blakeley's cell and handwriting in the book said: "RIP baby. I will miss you always. I am sorry."
Prison governor Carol Gaskin said she was handed a letter from Mr Blakeley, which said: "I want to give this to you. It needs to go to the police. That is my confession."
She said he was crying as he read the letter and also told her: "I did everything I could to save her".
The letter was handed to police the next day.
'Grave visits'
A statement by prison officer Carly Rossey said Mr Blakeley was crying and had told her: "It was an accident, I didn't mean it.
"I thought she was joking. I tried to wake her up. I smashed a wing mirror off a car to check her breathe. I now know I should have called an ambulance.
"I visited her grave every day for two weeks."
Prison healthcare assistant Tracey Howarth said he told her: "I tried to revive her using my skills. I stayed with her. I want them to know I didn't just chuck her in a hole."
But she said he was grinning when he said it and did not appear to be taking it seriously.
A 17-year-old boy from Didcot, who cannot be named, is also on trial.
He has admitted perverting the course of justice but denies preventing the lawful burial of Jayden.
The trial continues.