Jayden Parkinson 'buried hastily' by Ben Blakeley, trial hears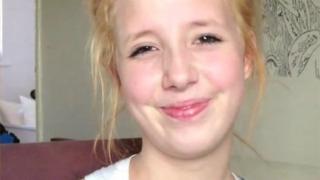 Pregnant teenager Jayden Parkinson was buried hastily by her ex-boyfriend after he killed her, a court has heard.
Ben Blakeley, 22, admits dumping the 17-year-old's body in the grave of his dead uncle.
Jayden was last seen alive with Mr Blakeley on the afternoon of 3 December last year in Didcot, Oxfordshire, having met up to discuss her pregnancy.
Mr Blakeley, 22, from Reading, admits manslaughter and perverting the course of justice but denies murder.
Forensic archaeologist Dr Karl Harrison carried out the excavation of Alan Kennedy's grave at All Saints' churchyard in Didcot.
'Naked videos'
He told jurors at Oxford Crown Court he removed about 20cm (8in) of soil and could clearly see spade marks, which he described as being made with "some force".
"At a depth of 38cm (15in) from the surface I started to notice the beginnings of some pale skin starting to show through," he said.
Dr Harrison said that after Jayden's body had been placed in the grave, the excavated soil was put back on top and the excess compacted around the sides.
He concluded: "...she appeared to have been subjected to a fairly hasty disposal."
Asked how long it would have taken to re-fill the grave with soil, he replied: "Anyone who has dug a hole in their back garden knows it is very tiring. I would think it was an hour's work rather than minutes to bury the body."
A post-mortem examination found that Jayden died as a result of pressure to the neck.
There was also evidence of bruising to her face and scalp, indicative of being caused by a fist or foot.
The court has already heard that Mr Blakeley was obsessive and controlling of Jayden and had threatened to post intimate naked videos and photographs of her on Facebook after they split up, hoping that she would kill herself as a result.
Earlier, the jury heard from taxi driver Adrian Stovell who unwittingly helped Mr Blakeley lift a heavy suitcase allegedly containing the body of Jayden into the boot of his Toyota Prius car.
Mr Stovell, who works for Go Green taxis in Didcot, had picked him up in the village of Upton at about 02:00 GMT on 9 December.
"He told me that he had just been thrown out of his by his girlfriend and had managed to chuck his belongings in the suitcase and he was going to drag it all the way to Didcot," Mr Stovell said.
A 17-year-old boy from Didcot, who cannot be named, is also on trial.
He has admitted perverting the course of justice but denies preventing the lawful burial of Jayden.
The trial continues.