Jayden Parkinson murder trial: Ben Blakeley 'violent to previous partners'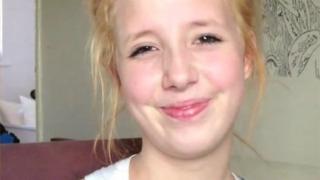 The man accused of murdering his ex-girlfriend Jayden Parkinson threatened to stab a pregnant former partner in the stomach, a court has heard.
Ben Blakeley pushed the girl down the stairs when she was seven months pregnant, Oxford Crown Court heard.
The 22-year-old is accused of killing Jayden, 17, who was pregnant at the time, and burying her in the grave of his uncle in December last year.
Blakeley, from Reading, has admitted manslaughter but denies murder.
The prosecution has claimed he was violent and controlling in past relationships as well as towards Jayden.
'Disguise bruises'
The jury heard Blakeley, who has also admitted perverting the course of justice, began a relationship with 16-year-old Kirsty Penford in April 2007.
Richard Latham, prosecuting, said: "Her pregnancy made him upset. He accused her of being unfaithful.
"When she was seven months pregnant he threw her down the stairs in the flat. He threatened to stab her in the stomach to kill the baby."
The court heard the teenager gave birth in 2008.
The jury heard the next day Blakeley "lost control" and police had to be called when he marched into the ward and began to wheel the cot away with the baby inside.
Mr Latham added: "The relationship was punctuated by outbursts of rage. He was violent to her. He only allowed her to wear makeup to disguise bruises on her face."
He said Blakeley, of Christchurch Road, Reading, moved on to a new relationship in 2009 with Katie Gale but by 2011 he had turned violent.
"He started hitting her, he bit her face. Significantly he tried to strangle her," Mr Latham said.
That relationship ended in October 2012 and by then he was already seeing another woman, Sarah Rees, who Mr Latham claims Blakeley was also violent towards.
The court heard that he had also confiscated girlfriends' phones and was described as "controlling".
Hannah Ryan, a support worker at One Foot Forward hostel where Jayden was living in Oxford, was the first person to give evidence.
She described Jayden as "quite timid" and said Blakeley had told the teenager that she could not leave her room even to shower or use the bathroom.
Ms Ryan said: "She said he had beaten her up in the past and strangled her in the past.
"She was left with no friends at all. She said Ben was the cause."
Ms Ryan said she saw Jayden on 24 November after she had split up with Blakeley and said: "She was just really happy."
A 17-year-old boy from Didcot, who cannot be named, is also on trial.
He has admitted perverting the course of justice but denies a new count of preventing the lawful burial of Jayden.
The teenager's body was found on 18 December in a disturbed grave at the cemetery in All Saints' Church, Didcot, Oxfordshire, two weeks after she was reported missing.
A post-mortem examination revealed she died from pressure to the neck.
The trial continues.