Oxford facing 'beds in sheds' problem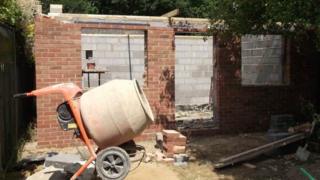 There are several hundred "beds in sheds" - illegal homes built in back gardens - in Oxford, the city council has said.
Three buildings have been demolished since the authority was given £150,000 by the government to help enforcement teams crack down on the practice.
The flats were put up without planning permission to let out to tenants.
Ian Wright, from the environmental health team, said he was "disturbed" by the findings.
'Rogue landlords'
He said: "If you're the sort of person who goes around building residential dwellings in your back garden without planning permission, the chances are you don't particularly care about fire or electrical safety, or the safety of the individuals in there.
"These are often the rogue landlords who are up to no good in other parts of the city as well.
"It's quite hard to identify where these places are but we've estimated there could be several hundred of these 'beds in sheds' around the city."
He said in some streets 10% of the properties had outbuildings "that needed some form of action by the council".
'Desperate situation'
Funding has gone towards using aircraft with thermal imaging to identify the homes. The council is in the process of analysing the data.
Matt Harrison, director of business and enterprise for the charity Homeless Link, said it was "concerning that people are in such a desperate situation".
"Nobody should be forced to live under these conditions, so it is right that action is taken," he said.
However, he added it was "vital" for councils concerned about the issue to work with charities, authorities and other agencies to ensure people are given appropriate support, so they do not end up homeless.