Townlands Hospital work begins in Henley-on-Thames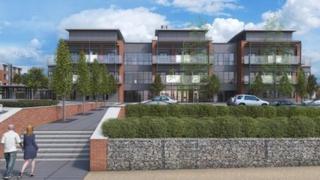 Work has begun on the £10.4m revamp of an Oxfordshire hospital after more than 30 years of talks.
Henley-on-Thames' new Townlands Hospital will include a health campus with a care home and a 12-bed hospice.
Project manager Harold Caldwell said the redevelopment would "move patient care forward".
Campaigners began fighting in 2005 to keep the hospital open and the idea to redevelop the site was first suggested more than 30 years ago.
'Real difference'
The central part of the site, which is owned by NHS Property Services, will provide a variety of services, including inpatient and outpatient care, X-ray, podiatry, physiotherapy and dentistry.
The site will also include a 64-bed care home, which will be run by Oxfordshire County Council, and 44 "assisted-living residences", 12 "key worker residences" will also be built on the land.
Mr Caldwell said patients would notice a real difference when it opened in two years.
He said: "When it is complete the hospital will have lots of en-suite accommodation for patients, so no more sharing of bathrooms, which is really good news from the point of view of modern facilities and patient care moving forward."