Ewelme's Grundon waste facility fire 'accidental'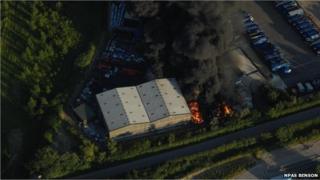 A fire at a waste centre in Oxfordshire which sent palls of thick black smoke into the air has been declared accidental.
A 200-metre cordon was placed around Grundon waste disposal facility at Ewelme, near Wallingford, after fire broke out on Saturday.
It took ten crews four hours to extinguish the blaze.
The cause was greasy rags which had been "affected by sunlight", according to Oxfordshire Fire and Rescue Service.
Residents in Nettlebed and Sonning Common were warned to keep windows and doors closed, a nearby building was evacuated and people were advised to avoid the area.
The fire service said there were no issues with contamination, and no on-one was injured.
Grundon's managing director, Clayton Sullivan-Webb, apologised to local residents for any inconvenience caused.
He described it as "a relatively small fire which generated a lot of smoke".
"This was mainly caused by burning plastic containers, solvent based paints and oily rags and aerosol cans," he said.