Oxford Union president Ben Sullivan in rape suspect anonymity call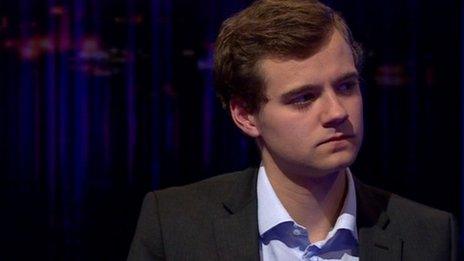 The president of the Oxford Union has said people arrested on suspicion of rape should remain anonymous after a case against him was dropped.
Ben Sullivan was arrested in May on suspicion of rape and attempted rape.
He told BBC's Newsnight he wanted a "happy medium" whereby identities were protected until the "conclusion of a preliminary investigation".
Oxford Sexual Abuse and Rape Crisis Centre said it was in the public interest to publish defendants' names.
Mr Sullivan, 21, is a history and politics student at Christ Church college, Oxford.
He was elected head of the Oxford Union, a debating society, in December. Following his arrest, which was reported on the front page of some national newspapers, a string of speakers cancelled their appearances.
But on Wednesday Thames Valley Police said the case against him had been dropped.
Mr Sullivan said: "I'm not as extreme as some who don't think you should have your anonymity revealed until you've been convicted, or... after a charge.
'What I don't agree with, though, is that everyone's identity is automatically revealed the minute they are arrested."
He added that he was "completely aware that it can be extremely helpful to police investigations" and "would never say that everyone's identity in the circumstances should be kept secret".
"However, these are obviously incredibly poisonous allegations. They are incredibly difficult to deal with.
"It's been very difficult, very harrowing. It puts things in perspective, [and] changes your priorities, to say the very least."
A spokeswoman for Oxford Sexual Abuse and Rape Crisis Centre said there was "no justification for exceptional treatment for rape defendants".
She said: "We are concerned that singling out rape and sexual offences for defendant anonymity serves only to entrench a myth that women who report these crimes are more likely to be lying than someone who is reporting another kind of crime.
"Research from the Crown Prosecution Service (CPS) published last year dismissed this myth, reporting that false rape allegations are 'very rare' and possibly make up as little as 1% of all reports."
Sarah Pine, who organised a campaign to boycott the union, said her actions had been appropriate.
"We never broke the principle of 'innocent until proven guilty'. I have never passed judgement on Ben's case and never will," she said.
She claimed the boycott sent a "respectful message to any survivors of sexual violence".
Related Internet Links
The BBC is not responsible for the content of external sites.