Arson accused Fiaz Munshi 'like a psychopath'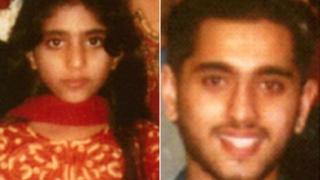 A woman was "like a psychopath" as she travelled towards the house where two children died in a fire following an arson attack, a jury has heard.
Fiaz Munshi is accused of being involved in the 1997 attack in Magdalen Road, Oxford, which killed Majid Khan, 15, and his sister Anum Khan, eight.
Five men were convicted of killing the children in 1998. Ms Munshi's sister Riaz was convicted of manslaughter.
Ms Munshi, of Manley Road, Oldham, denies two counts of murder.
The trial at Oxford Crown Court previously heard the siblings' brother Amjad had broken off his relationship with Ms Munshi, 38, before the attack.
'Erratic' mood
Earlier the court heard from one of the men who travelled with a group of men and women to the house.
Sunder Khutan told the court he believed he was going to Oxford to beat someone up.
The jury heard the group stopped at a petrol station on the way, where a can was filled with petrol.
Mr Khutan told the court once the cars arrived in the city, Ms Munshi pointed out the house and one of the other men said: "The lights are still on, let's give it a while."
Prosecutor Neil Moore asked: "What was Fiaz Munshi's mood like?"
"She was erratic and acted like a psychopath," he replied.
"She said, 'I'm going to make sure that house gets burned down'," he added.
'Singed eyebrows'
Mr Khutan told the court he was parked some way from the house when it was set alight and was unaware of what had taken place.
The jury heard he and some other members of the group then travelled in two separate cars to Hertfordshire.
They stopped on the way and discussed what had happened, the court heard.
He told the court that two of the men "had singed eyebrows and smelt of petrol" and were laughing.
Mr Khutan broke down in tears as he told the court he had spent his life trying to get over what had happened.
"I've tried to forget about it - smoking and drinking," he said.
"I was told to move on with my life but 16 years later the police knock on your door and ask you to remember everything," he added.
The trial continues.