World Cup 2014 Panini Cheapskates draw own stickers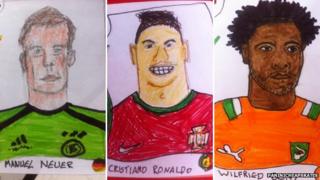 A couple's bizarre attempts to fill a World Cup sticker album with their own, sometimes "awful", drawings of players have become an unlikely internet hit.
Alex and Sian Pratchett began drawing players on the opening day of the World Cup and aim to finish by the final.
They posted the images on a blog called Panini Cheapskates, with an especially noteworthy drawing of Germany's Mesut Özil among those winning acclaim.
Mr Pratchett said: "It's taken over our life - it's like a second job."
He confessed the idea was "completely ridiculous", but it has attracted worldwide interest.
'Did a Wilfried'
The crayon king said he had tried to complete the 1994 Panini World Cup album when he was 11, but "never quite did it".
And as overgrown schoolboys everywhere took the opportunity afforded by the World Cup in Brazil to relive their youth of sticker swapsies, a Panini album found its way to the Pratchetts' Oxford home.
But Saver Sian stepped in, as Arty Alex explained: "I saw some friends were collecting this year, but Sian thought maybe there would be better ways of spending our money."
So it was out with the felt tips and the marathon quest to fill 639 squares.
"We're getting better at it," Mr Pratchett bragged.
"When we started they were a bit sketchy. But Sian did a Wilfried Bony of the Ivory Coast which looks great.
"I did a Mesut Özil which looked awful but people seemed to respond to it on Twitter."
With each drawing taking 20 minutes, the Cheapskates will have to draw at a rate of about of 22 a day to finish their quest by the World Cup Final on 13 July.
And if it is a success, Mr Pratchett is considering embarking on another album of drawings for the Premier League season.