David Cameron in favour of turning the A40 into a dual carriageway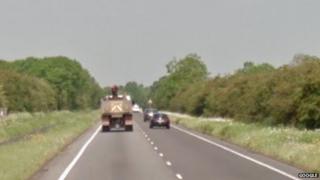 The prime minister has said he is in favour of turning the A40 into a dual carriageway.
David Cameron described congestion on the road as a "foot on the windpipe" of West Oxfordshire's economy.
However he said other interim changes were being made in the short term to help ease congestion.
Bob Bradley, president of the Chamber of Commerce for Oxfordshire, said traffic delays on the road affected local businesses on a daily basis.
Speaking to BBC Radio Oxford, Mr Cameron said: "I have always felt that long-term a dual carriageway is a very good answer, but actually what the government is doing is making sure there is money available for the county council to carry out some real improvements at the Wolvercote Roundabout, a road that will link the A40 to the A44 and a four-way junction at Shores Green in Witney.
"So I think there is going to be improvements and improvements have already been made, but more needs to be done."
'Barrier to economic growth'
Mr Bradley said the congestion causes daily problems for residents.
He said: "I think the traffic problems on the A40 must be one of the biggest barriers to economic growth in this area. It is something that affects most ordinary local businesses every day.
"A new carriageway would be helpful, but it would obviously simply move the traffic challenges further down the road. Personally I would lean a bit more towards encouraging people onto public transport."
The BBC is waiting to hear from Oxfordshire County Council.