'Hamburger' work begins on Oxford city ring road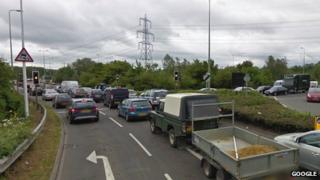 Work has begun to install a 'hamburger' roundabout on one of the most congested parts of Oxford's ring road.
The changes are part of a £6m scheme to improve traffic flows at Kennington and Hinksey Hill roundabouts, which are used by 60,000 vehicles a day.
The work at Kennington Interchange will create a lane through the middle of the roundabout, aimed at increasing capacity by 30%.
The work is due to be completed by November.
The new lane will allow eastbound traffic to go through the central island.
The westbound side of the roundabout will also be widened to create segregated lanes to the A34.
David Nimmo Smith, Oxfordshire County Council's cabinet member for transport, said: "All road users, residents and businesses currently using roads around the south of Oxford are likely to be affected by this work.
"Traffic will be able to travel through the area during the work, and businesses will be open as usual. However, drivers are advised to plan their journeys in advance to take account of delays."
Work on the Hinksey Interchange will include a free flow slip road from the southern by-pass on to the A34.