Radiohead's Colin Greenwood in triathlon challenge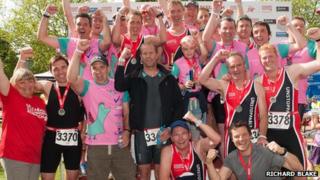 Radiohead star Colin Greenwood has conquered an Oxfordshire triathlon in support of a young girl with cancer.
The famous bassist joined hundreds of people at the Blenheim Palace Triathlon on Saturday after being inspired by nine-year-old Scarlett Clarkson, who is battling acute lymphoblastic leukaemia.
His team Scarlett's Dragons has raised more than £90,000 for Leukaemia & Lymphoma Research.
"If I could learn the front crawl I would definitely do it again," he said.
Greenwood added that the triathlon was "brilliant" and said: "Raising money for Scarlett's Dragons is the reason we are doing this and means everything."
Before the race, he said his band members had sent their best wishes.
The triathlon challenge was organised by Greenwood's neighbours, Scarlett's parents, Dan and Bryony, who put together a team of 22 men.
Mrs Clarkson said the team had been "fantastic" with their support.
Scarlett was diagnosed with acute lymphoblastic leukaemia, a cancer of the white blood cells, aged six.
Symptoms include pale skin, tiredness, breathlessness and unusual and frequent bleeding.
The triathlon is also taking place on Sunday.