Animal feed spillage closes Henley-On-Thames road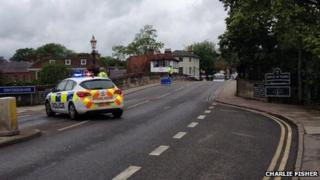 A road though Henley-On-Thames was closed after a lorry spilled "yellow and bubbly" liquid animal feed on the carriageway.
Hart Street and the surrounding area were cordoned off after the spillage.
Fire crews and a specialist Environment Agency clean-up team removed the liquid amid concerns that it could seep into the water system.
The A4130 between A4155 Duke Street and Remenham Lane was closed for several hours.
BBC traffic services reported severe congestion in the area.