Oxford's Slade House NHS treatment unit 'improving'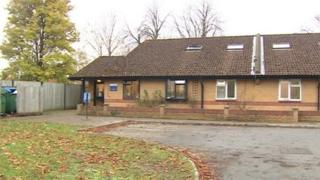 An NHS assessment and treatment unit ordered to take action after a teenager drowned in a bath has improved its services, a health watchdog has found.
Connor Sparrowhawk, 18, died at Slade House in Headington, Oxford, in July.
Southern Health NHS Foundation Trust said it was "pleased" with the new conclusions.
But the Care Quality Commission (CQC) said there were concerns people were still not being respected following a blanket ban on bathing.
In February an independent Verita report concluded that Mr Sparrowhawk's death was "preventable", and that it had "failed significantly" in his care.
The CQC issued warning notices after finding dirty toilets, outdated equipment and broken fittings during unannounced visits in September, and said "urgent" action was needed to make the unit safer.
But it said it had now lifted those notices because there had been "enough improvement".
'Showers only'
A CQC spokesman said despite improvements, patients sometimes had no involvement in "significant personal decisions", including a blanket ban on baths in favour of showers.
"This was made on behalf of all residents, despite some people having capacity to make that decision for themselves," he said.
Richard Huggins, Mr Sparrowhawk's stepfather, said he was disappointed with the report.
"People are deprived of basic activities, such as bathing, in blanket and somewhat arbitrary ways," he said.
"I think it means their notion of what levels of service look like are quite low compared to [that of] the general public and certainly people that use them."
Lesley Munro, divisional director for learning disabilities at the trust, said every area of care was being scrutinised.
She said the initial report was "concerning" and the trust would "put right" the issues raised.
Slade House provides care at two sites for people with mental health needs, learning disabilities and substance misuse problems.