Bats and badgers may be rehomed for Thame development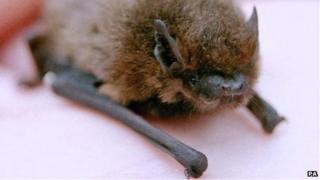 Bats and badgers living on the site of a proposed industrial development in Oxfordshire could be rehomed.
The protected animals were discovered at the Cotmore Wells Farm site on Towersey Road, Thame.
A colony of common pipistrelle bats are living in the roof of an old farm building and a large badger sett has been discovered under another building.
Developer Stoford needs a licence from Natural England before the animals can be moved.
The firm, which submitted a planning application to South Oxfordshire District Council last month, said it would cost £18,000 to move the animals to new purpose-built homes.
A spokesman said they would be moved to an area of the wider farm site "within very close proximity".
If the licence is approved the animals are likely to be rehomed in the autumn.
If approved the development, for haberdashery company Groves and printing firm Windles, is expected to create about 100 jobs over the next five years.
Consultation on the plans ends on 19 June and a decision is expected in August.