Mother of killed air cadet receives MoD out-of-court payout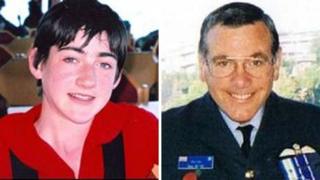 The mother of a 15-year-old air cadet who died in a mid-air collision has received an out-of-court settlement from the Ministry of Defence (MoD).
Nicholas Rice, 15, from Calcot near Reading, and pilot Mike Blee, 62, from Abingdon, died in 2009 when their plane hit a glider at Drayton.
Flt Lt Blee had a condition which meant his spine could snap at any moment but was passed fit to fly by an RAF doctor.
Nicholas's mother, Julia, has been awarded an undisclosed sum.
She has now called for confirmation that improvements have been made to medical check-ups.
'They failed him'
Speaking after the settlement, she said: "I agreed that Nicholas could fly in the complete understanding that the RAF knew what they were doing and would take care of him, otherwise I would never have signed any documents.
"My belief now is that the RAF failed my son and cost him his life.
"Nothing will ever bring Nicholas back but hopefully lessons will be learnt to prevent any further suffering for others."
An inquest in February 2012 heard Flt Lt Blee had suffered with Ankylosing Spondylitis (AS) - a type of chronic arthritis - which made his spine brittle and meant he could die if it snapped.
The jury agreed this condition was aggravated in mid-air and that he had died "before the aircraft hit the ground".
The inquest found the training Nicholas received was "inadequate" and that he could not escape from the plane.
A narrative verdict of accidental death was returned.
The MoD said: "Safety is of paramount importance to us but no flying is without risk.
"A Service Inquiry into the incident identified a number of factors in the incident and lessons to be learned to ensure we can to prevent such incidents from happening again."