Mental illness can reduce life expectancy 'more than smoking'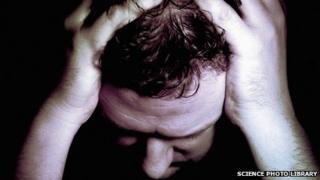 Serious mental illness can reduce life expectancy more than heavy smoking, Oxford University scientists have said.
They say the illnesses can reduce life expectancy by 10 to 20 years - a loss equivalent or worse to smoking 20 cigarettes a day.
The scientists from the Department of Psychiatry said the figures "should galvanise governments to make mental health more of a priority".
Mental health charities said they welcomed the latest research.
'A scandal'
Dr Seena Fazel from Oxford University said: "Smoking is recognised as a huge public health problem.
"There are effective ways to target smoking, and with political will and funding, rates of smoking-related deaths have started to decline. We now need a similar effort in mental health."
The researchers found the average reduction in life expectancy in people with bipolar disorder is between nine and 20 years.
It is 10 to 20 years for schizophrenia, nine and 24 years for drug and alcohol abuse, and around seven to 11 years for recurrent depression.
This was due to "high-risk behaviours" in psychiatric patients including drug abuse and suicide, Dr Fazel said.
He added the loss of years among heavy smokers is eight to 10 years.
Head of Rethink Mental Illness Mark Winstanley said it was "a scandal that people with mental illness are at risk of dying 20 years younger than average, because of preventable physical health problems".
"For years our supporters have been calling for better physical health care for people with mental illness."
The Oxford University researchers have published their findings in the journal World Psychiatry.