Blood victims' protest at David Cameron's Witney office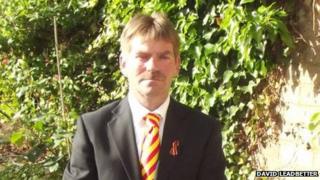 Haemophiliacs infected by NHS blood transfusions in the 1970s and 1980s have staged a protest at the prime minister's Oxfordshire office.
Organiser David Leadbetter from Witney, said the government had still not paid compensation despite promises in 2011.
More than 4,500 were infected with HIV and hepatitis C from contaminated blood. More than 2,000 have since died.
David Cameron described the infection of people with contaminated products as a "tragedy".
'Shut up and die'
An independent public inquiry in 2009 said it was described as an "horrific human tragedy".
Leading medical expert Lord Winston described it as "the worst treatment disaster in the history of the NHS".
In January 2011, the government announced an increase in payments and support worth up to £130m to some of those infected with hepatitis C.
But Mr Leadbetter, a haemophiliac who became infected, said most victims had not yet seen "a penny" of that compensation.
"The NHS, the Blood Transfusion Service and the Department of Health continue to deny any negligence," he said.
"They treat the haemophilia community and other victims with contempt. They would like us all to shut up and die."
'Deepest sympathies'
He said he met Mr Cameron in 2010 and 2012 and was assured both times the government would try to resolve the issue and arrange compensation.
He said he arranged the demonstration outside the prime minister's office in Witney as he was refused a third meeting this year.
In a statement, Mr Cameron sent his "deepest sympathies" to sufferers and their families.
"I have met with one of my constituents, who is a sufferer, about this important issue and I am due to meet him again soon," he added.
"This government has worked to improve the system of financial support schemes for those affected and this work is ongoing."
The NHS Blood and Transplants Service declined to comment.
A Department of Health spokesperson said: "The UK now has one of the safest blood supplies in the world and independent experts continually review safeguards."
He said people who had historically been given blood contaminated with hepatitis C and HIV through the NHS "should receive financial support".
"We know that some people are unhappy with the current system and are looking at ways to improve it," he added.