Burford church raises £3m for new community centre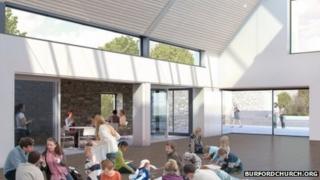 A new community centre will be built in an Oxfordshire town after a church managed to raise more than £3m.
Members of St John the Baptist in Burford have rallied round to raise the cash, including one man who has delayed retirement to contribute money.
The project also received a boost from the church's warden, who left her £400,000 estate to the scheme in her will.
Vicar Richard Coombs said he was delighted with the fundraising effort.
He said: "Tragically one of our church wardens died when she was only 45, but she left her estate to the project so that immediately contributed £400,000.
"There is one particularly generous benefactor who has given a large amount of money, but the rest is from church members.
"We have had people giving incredibly sacrificially. For instance one person is delaying his retirement so that he can pay into the fund and somebody else is having a less expensive holiday."
Charities and trusts have also contributed to the total raised.
Plans include building a hall at the church in Church Green that can seat 200 people and work could start by the end of the summer.
The church's existing Warwick Hall, a grade II listed building, will be repaired and redecorated.
It will provide a day centre for the elderly and space for community groups.