Sutton Courtenay distribution warehouse plans refused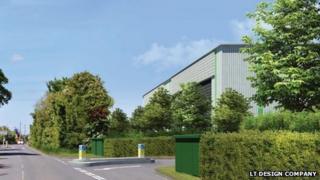 A controversial plan to build two distribution warehouses that drew more than 160 objections, has been refused.
The proposal for the buildings on a 25 hectare (62 acre) site on the edge of Milton Park business park near Sutton Courtenay, Oxfordshire, was submitted by Diageo Pensions Trust.
Residents raised concerns about the size of the buildings and traffic.
The Vale of White Horse District Council's planning committee refused the application at Wednesday's meeting.
Vice-chairman of the committee councillor Sandy Lovatt said the application was turned down because of the large size of the warehouse as well as traffic fears.
The larger warehouse was proposed to be 604m (1,981ft) wide, 125m (410ft) deep and 21m (69ft) tall, while the smaller warehouse would have been 176m (577ft) by 56m (183ft) deep.
The developers said the warehouses would have created about 3,000 jobs.