Oxford sex trial: Zeeshan Ahmed 'threatened to shoot pregnant girl'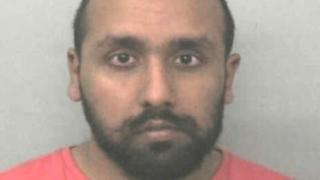 A pregnant teenager was told she would be shot if she did not stop talking to police about being sexually assaulted by two men, a court has heard.
The girl, who was 17 at the time and cannot be identified, was attacked after waking up in a house in Oxford in December 2011, the jury was told.
Zeeshan Ahmed, 28, is accused of threatening her after she contacted police about the alleged assaults by Mustafa Ahmed, 26, and Bilal Ahmed, 27.
The trio deny all the charges.
Abigail Husbands, prosecuting, said the girl and a friend were on a night out at the Bullingdon Arms in Cowley Road when she met Mustafa Ahmed who got into a taxi with them to a house in Cowley Road.
'Get off me'
In a police interview played to the court, she said she woke to find a man, who the prosecution claim is Mustafa Ahmed, sexually assaulting her.
She said: "I was a bit freaked out. I thought 'what are you doing?'"
She said she pretended to be asleep and that he left afterwards.
The teenager said she was then assaulted by Bilal Ahmed and said: "I was shocked. I was like 'get off me.'"
The Oxford Crown Court jury heard how the girl shut herself in the bathroom to call the police.
The court heard that the teenager's DNA was found on Bilal Ahmed's fingers and Mustafa Ahmed's DNA was found on her clothing.
'Fearful for baby'
Jurors later heard from the girl who said she was visited by Zeeshan Ahmed about the arrest of his cousin Bilal Ahmed.
She said: "He wasn't happy about the situation. ...it sounded like that he didn't believe my story."
She said he contacted her on Facebook and then over BlackBerry Messenger.
On 17 January 2012 she said she received a message from him asking about the police investigation.
She refused to go into details and said she would get him arrested for harassment.
She said he told her not to go home as he was going to "get me shot".
The girl told the jury: "I was scared. I had only met him on the one occasion.
"I didn't know whether he was serious. I was pregnant at the time. I was very fearful for my baby's life."
Zeeshan Ahmed, of Palmer Road, Oxford, denies perverting the course of justice by threatening the girl.
His cousin Bilal Ahmed, of Suffolk Road, Maidenhead, Berkshire, denies assault by penetration, while Mustafa Ahmed, of Harrow Road, London, denies sexual assault.
The trial continues.