Wins for Tories and Labour in Oxfordshire elections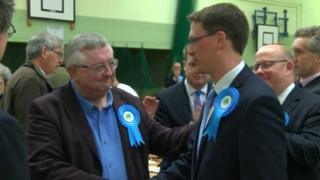 Labour retained control in Oxford and the Tories have kept their majorities in West Oxfordshire and Cherwell.
Despite gains elsewhere in the country, UKIP failed to win a council seat in Oxfordshire.
Of the 25 seats up for election in Oxford, Labour won 17, the Liberal Democrats won five and the Green party won three.
In West Oxfordshire, the Tories gained two seats, while the party lost one in Cherwell.
'Tory-free zone'
City council leader Bob Price said: "It is a very satisfactory set of results for Labour.
"We gained three seats, some of them were strongly contested.
"We are still a Tory-free zone."
In West Oxfordshire, the Tories won 15, the Liberal Democrats held one and Labour made one gain out of the 17 seats up for election.
Conservative council leader for West Oxfordshire Barry Norton said: "Not only have we held, we have had two gains and increased our majority.
"We have seen off UKIP. I think they have not reached the figures they were hoping to reach.
"All in all it has been a fantastic result for us."
'Challenges ahead'
In Cherwell, the Conservatives won 13 of the 17 seats, Labour gained two seats from the Tories and held one, while the Liberal Democrats held one.
Labour made two gains from the Conservatives with Matt Johnstone winning in the Banbury Neithrop ward and Claire Bell winning in the Banbury Grimsbury and Castle ward.
Mr Johnstone said: "I am really excited and looking forward to the challenge ahead.
"The work starts here now."
Voters also selected who will represent the South East region in the European Parliament and these results will be announced late on Sunday.
The turnout in West Oxfordshire for the European elections was 38.64% and 39.03% for the district council elections.
In Cherwell, the turnout for the district council elections was 36.82%.