Jericho Wharf boatyard plans go before council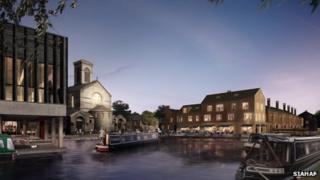 Plans have been submitted to replace a derelict boatyard in Oxford with an Italian-style "piazza".
Developers want to develop Jericho Wharf to include a community centre, new housing and a boatyard.
Following consultation with the local community designs have been altered, with houses reduced in height and changes to their brickwork.
A proposed bridge across the canal has also been moved further south from a winding hole used to turn boats around.
The plans will now be formally considered by Oxford City councillors.
Developer Siahaf said if planning consent was granted work on the site would start around six months later.
Oxford City Council has rejected two planning applications for the site from previous developers.