QR codes used on ballot paper for the first time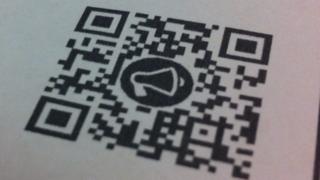 You might have seen them on bus stops, signposts, advertising billboards and even on the side of food packets.
But now a party standing in the South East in this year's European Elections has become the first in the country to include a working QR code on the ballot paper.
QR stands for Quick Response and YOURvoice has incorporated the device into its official emblem.
The Electoral Commission says this is the first time it has been done in the UK.
The square barcodes work by launching webpages when scanned by a smartphone app.
They have previously been used on signs in parks and even on gravestones.
'Reduce barriers'
In the case of the South East ballot paper, a voter who scans it will get a link to the party's website.
"YOURvoice used a QR code and website address on the ballot paper to improve access and reduce barriers between YOURvoice and voters," said candidate Rachel Ling.
"People need easy access to information to allow them to make informed decisions."
She says there is a growing gulf between politicians and voters and they need to find new ways to engage.
"Door-knocking is an intrusion," she added.
"We have 'unengaged' voters and we don't understand why."
Each time somebody uses the QR code, it is recorded. The party says it is already seeing hits now that postal ballots have been sent out.
Dr Jonathan Bright, from the Oxford Internet Institute, said: "There are lots of minor parties who have consistently used the ballot paper as a way of innovating or trying to get some sort of attention from voters.
"What's new about this is that they're not just trying to attract attention but also to push people, while they're in the ballot booth, to actually investigate their party and to look up information about them.
"Typically we've tried to discourage out and out campaigning in and around places where people cast their vote so I think there would be questions to be raised by the Electoral Commission if this got more developed and if major parties started to try and push forward with it."
Selfie Ban
While using mobile phones to scan QR codes is allowed in polling booths, taking a "selfie" is very firmly banned.
The Electoral Commission issued official guidance issued official guidance in April.
It says: "The law relating to obtaining information in polling stations and disclosing such information is complex.
"Given the risk that someone taking a photo inside a polling station may be in breach of the law, whether intentionally or not, our advice is that you should not allow photos to be taken inside polling stations."
Tweeting pictures of a postal ballot is also discouraged.
According to the guidance, "whether an offence has been committed would depend on a number of factors, including whether the photograph was shared with others and what the photograph showed".
Taking the photograph itself is not in direct breach of the law, however sharing the information that appears on the ballot paper could potentially be viewed as a breach of the law that protects the secrecy of the ballot.
Even a ballot paper that is not filled in would still carry official information that if shared would breach the secrecy requirements of the ballot."
There are 15 parties standing in the South East for the European Elections.