Local elections 2014: Housing to top poll agenda in Oxfordshire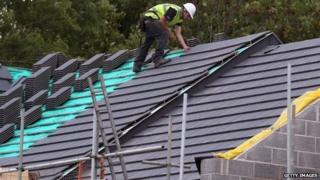 Housing is a big issue in Oxfordshire. A recent study found about 106,000 houses need to be built in the county between now and 2031 to keep up with a growing population.
But the question is where should they go and when? For local election candidates standing in Oxford, Cherwell and West Oxfordshire it will be the one question they will be trying to answer.
In Oxford, there's really nowhere to expand. Buying a house in the city is unaffordable for many and there are concerns about rogue landlords in the thriving rental market.
In rural West Oxfordshire, there are fears that villages like Bampton and Brize Norton will be forced to take many more new homes or even become satellite villages to deal with Oxford's overspill.
Cherwell, on the other hand, is seeing something of a development boom. Bicester is growing fast; there is even talk from the local MP of turning it into a "garden city".
'Left-leaning council'
But delays to the Local Plan have led to several instances of the government overruling the council and allowing unpopular developments.
How that manifests itself at the ballot box remains to be seen, but there are some certainties. It is mathematically impossible, for example, for the Conservatives to lose control of either Cherwell or West Oxfordshire, but some seats could be vulnerable.
Witney South will be the one to watch, it went to Labour at last year's county elections, with UKIP coming a close second.
In Labour-led Oxford City, it's not just UKIP trying to get on to one of the most left-leaning councils in the country, the Conservatives have not had a councillor elected here for 12 years.
It is the Liberal Democrats who potentially have the most to lose though. A larger percentage of their seats are up this year than the other parties.
The Greens are hoping to leapfrog them and lead the opposition, though there would need to be big Green gains - or big Lib Dem losses - for that to happen.