Uffington White Horse re-chalked by volunteers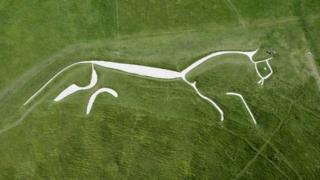 More than 100 people are taking part in the re-chalking of the Uffington White Horse.
The 3,000-year-old Oxfordshire landmark is fully-booked for visitors to take turns restoring it in 30-minute slots.
Advice and equipment is being provided by National Trust staff at the site.
Ranger Andy Foley said: "This is a great opportunity for people to provide real hands-on help in looking after our local heritage."
The Bronze-Age figure is re-chalked once a year to keep it white.
The tradition became so popular that it was temporarily banned in 1857 when it attracted over 30,000 visitors and travellers, many who were reluctant to leave afterwards.
Mr Foley said: "It's quite a spectacle even for those who aren't actually pounding the chalk."
The White Horse at Uffington is the oldest dated chalk figure in the country and forms part of a landscape of ancient sites.