Sir Roger Bannister reveals Parkinson's disease battle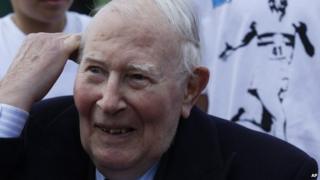 Sir Roger Bannister, the first man to run a mile in less than four minutes, has revealed he has Parkinson's disease.
Sir Roger, 85, made sporting history with his landmark run at Oxford's Iffley Road track on 6 May 1954.
The former neurologist said: "I am having troubles with walking. Ironically, it's a neurological disorder - Parkinson's disease."
He was diagnosed with the condition three years ago.
'Gentle irony'
Sir Roger told BBC Radio Oxford: "I have seen, and looked after, patients with so many neurological and other disorders that I am not surprised I have acquired an illness.
"It's in the nature of things, there's a gentle irony to it.
"I am being well looked after and I don't intend to let it interfere - as much as I can.
"Just consider the alternatives - that is the way I look at it. One of my pleasures in life, apart from running, has been walking. Intellectually I am not [degenerating] and what is walking anyway?"
Sir Roger shocked the world when he ran a mile in three minutes 59.4 seconds to become the first person to break the four-minute barrier.
Bannister was helped by Sir Christopher Chataway and Chris Brasher, who acted as pacesetters.
Brasher died in 2003 after a short illness and Chataway died from cancer in January.
Bannister may be best remembered for the sub-four minute mile, but he said his 1954 Commonwealth Games gold medal was the pinnacle of his athletics career.
The Vancouver Games were held only months after he broke the four-minute barrier, but the race was made all the more important as his chief adversary, Australia's John Landy, had broken his famous record 46 days before.
'Special race'
Bannister took the title in a Games record 3:58.8, leaving Landy, who clocked 3:59.6, to take the silver.
"The race between the two of us was a very, very special race," he said.
"It determined which would be regarded as the superior runner in history."
Six decades on, he has warned a breakthrough in the fight against Parkinson's could still be some way off.
"I know quite a lot about it and have treated a lot of people with it," he said.
"I am aware of all the research that's been done. I think it will take some time before there is a breakthrough, but the management and drug treatments are improving all the time."
Parkinson's UK chief executive Steve Ford said he was "saddened" to hear the "much-loved sporting legend" was being treated for the disease.
"One person every hour in the UK will be diagnosed with Parkinson's," he said.
"We applaud Sir Roger and his decision to speak publicly about his diagnosis at this stage in his long life."