Oxford University tent death student Andrew Kirkman gassed himself, inquest hears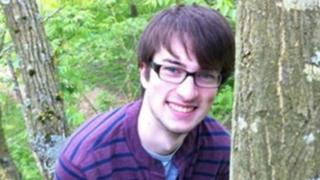 An Oxford University student found dead in a tent killed himself by inhaling a toxic gas, an inquest heard.
A passer-by discovered the body of Andrew Kirkman, 20, while walking in Port Meadow, Wolvercote, on 8 December.
The strong chemical odour had sparked a public health alert and the area was cordoned off while specially-trained officers were brought in.
The inquest heard the Balliol College student had been diagnosed with depression.
'Amazing young man'
Oxfordshire coroner Darren Salter recorded a verdict of suicide.
Mr Kirkman's parents Wendy and Mike, from Northwood, Middlesex, paid tribute to their son.
After the inquest in a statement they said: "Andrew was an amazing young man.
"He spent an inordinate amount of time assisting others and was a force for good in every community he was involved in.
"The attendance at his funeral of over 250 souls is a testament to how many lives he touched in his 20 years among us."
Sir Drummond Bone, master of Balliol College, said in a statement: "Andrew was a friendly, thoughtful and kind young man who is very much missed and our thoughts and sympathies continue to be with his family."