Queen Sofía of Spain visits Oxford University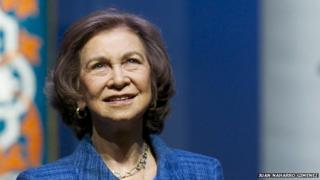 Queen Sofía of Spain is visiting Oxford University to see the work of Spanish faculties and scholars.
The Queen is an honorary fellow of the university's Exeter College, which takes the lead on Spanish studies.
She will meet Spanish nationals and Hispanists at the college, and later hear the college chapel choir sing English and Spanish choral music.
Her visit comes as the college, founded in April 1314, celebrates its 700th anniversary.
Exeter has a Queen Sofía Fellowship, created in 1988 to study modern and contemporary Spanish literature.
It also holds the seat of the University of Oxford's King Alfonso XIII Professorship of Spanish Studies, established in 1927.
Exeter College head Frances Cairncross said: "We are deeply proud of our links with Spain.
"The study of the country's rich language and literature is flourishing here at Oxford University."