Sprinklers for Campsfield House immigration centre after arson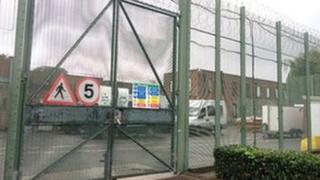 A new sprinkler system is being installed at an immigration centre in Oxfordshire following an arson attack.
Campsfield House in Langford Lane, Kidlington, has been granted permission for an extension to house pumps and water storage tanks.
The work follows fire officer recommendations and aims to improve safety after October's blaze.
Detainee Farid Pardiaz, 25, was jailed for 32 months earlier this month after admitting arson at Oxford Crown Court.
The first floor extension, approved by Cherwell District Council, will add 3m (10ft) to the existing building, taking the overall height to 6m (20ft).
Two people were treated in hospital following the fire and half the detainees were relocated to other centres because of damage to the building.
The centre has beds for 216 male detainees, according to the UK Border Agency.
The Home Office declined to comment on the safety improvement.