Oxford's Evenlode unit fails health regulator inspection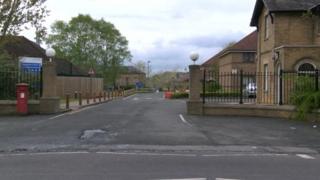 A national inspector has criticised an Oxfordshire health trust after a third unit failed a Care Quality Commission (CQC) inspection.
Evenlode in the Oxford Clinic, Littlemore, run by Southern Health NHS Foundation Trust, failed two of the six national assessment standards.
Adrian Hughes from the CQC said the trust had "a problem".
Lesley Munro from Southern Health said she welcomed the report and took the findings "very seriously".
Following the report publication, health sector regulator, Monitor, said the trust "must act faster" to improve the quality of care.
The regulator opened an investigation into the trust in December 2013, in response to problems uncovered by the CQC.
In response, the trust said it agreed it needed to "do a number of things" to demonstrate improvements, including addressing the action plans for CQC warning notices across all its services.
'So serious'
One CQC concern at Evenlode centred on a patient in a seclusion unit who had injured himself because staff were not able to fully observe his behaviour all the time, due to the design of the room.
Mr Hughes, deputy chief inspector of adult social care, said the seclusion unit was no longer being used.
Slade House in Headington and Piggy Lane in Bicester have both failed CQC inspections over the past year.
"I think that Southern Health have recognised, and I think they will say themselves they've probably recognised a little late, that there should have been greater management oversight of these units within the Oxfordshire area," Mr Hughes said.
"We have said it's so serious that we have issued warning notices. Warning notices comply the trust to take action."
Ms Munro, trust divisional director for learning disability, said: "During their visit the CQC found examples of good care, positive interaction by staff and evidence that those in our care felt well supported.
"The concerns raised by the CQC relate to the seclusion unit not being fit for purpose.
"In particular the taps were not anti-ligature taps and bathroom facilities were not easily accessible."
Ms Munro added that the necessary building works to ensure the unit is fully compliant were "due to be completed imminently".
Evenlode is a medium secure inpatient unit for people with learning disabilities who have offended, or are at risk of offending, and those with severe challenging behaviour.