Oxford Cowley Road procession after Passion Play mix-up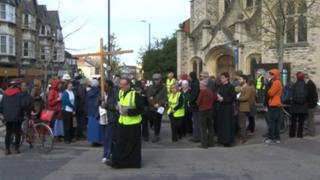 A Good Friday service and procession have replaced a Passion play which was cancelled after a council official did not realise it was a religious event.
Actors were due to re-enact the Easter story on Cowley Road, Oxford, but were thwarted because of a mix-up over the event's licence.
A procession with prayers and readings, but no outdoor performance or costumes, was held earlier.
Oxford City Council has apologised for the "mistake".
Local church groups said it was with "disappointment and sadness" the play had been cancelled.
The replacement event started at Cowley Road Methodist Church and finished at St Mary and St John's Church.