Oxford Cowley Road Passion play cancelled after council 'mistake'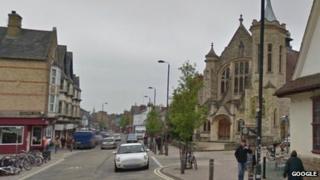 A Good Friday Passion play in Oxford has been cancelled after a council official did not realise it was a religious event.
Organisers of the outdoor performance, due to be held on the Cowley Road, cancelled it after an "intractable situation" with the city council.
The authority's licensing team leader has since apologised and admitted making "a mistake".
Church groups expressed "disappointment and sadness" at the cancellation.
The community re-enactment of the Easter story, last held in 2012, was to start from the Cowley Road Methodist Church but the council refused to grant permission.
'Deeply regrettable'
Julian Alison, licensing team leader at the city council, said: "At the time of processing the application, I did not appreciate that this was a religious event. I made a mistake and by the time I realised my mistake, the organisers had cancelled the event.
"The council encourages community events to take place and it is deeply regrettable that this has occurred. Such a mistake will not happen again."
A spokesman for council added: "As far as we are aware the organisers did not question the decision at a higher level within the organisation."
A statement released by the local church groups who organised the event, said the decision to cancel was made with "great disappointment and frustration" after alternative venues away from roads proved unfeasible.
"We know you will share our disappointment and sadness in this Holiest of Weeks.
"A great deal of work and prayer has been invested. We are so grateful to all who have shared this task with us so willingly and who have worked so hard," it added.