Radiohead's Colin Greenwood to do triathlon for cancer girl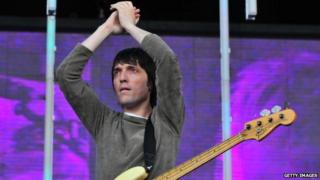 Radiohead bassist Colin Greenwood will take part in a charity triathlon at Blenheim Palace after being inspired by a young cancer sufferer from Oxford.
He is supporting his neighbour Scarlett Clarkson, nine, who is battling acute lymphoblastic leukaemia (ALL).
Greenwood is part of the Scarlett's Dragons team, raising £50,000 for Leukaemia and Lymphoma Research.
He jokingly said he had to cut down on a "40-a-day Regal King Size" habit and "ration the hard liquor".
"Scarlett has been incredibly brave throughout her trials and I am full of love and utter admiration for the way she and her family are dealing with it all," he said.
"It has shown me that Radiohead fans share kindness and compassion, as well as a love of music."
'Really neighbourly'
Scarlett was diagnosed with ALL when she was six and needed two years of chemotherapy, radiotherapy and steroids.
She relapsed six months later and is now undergoing a further two years of treatment.
The triathlon challenge was organised by Scarlett's parents, Dan and Bryony.
Mrs Clarkson said: "Lots of dads on our street are taking part and I was not surprised at all when Colin agreed to get involved.
"He is really neighbourly and likes to get involved in community stuff."
ALL is an acute form of leukaemia, or cancer of the white blood cells. Symptoms include pale skin, tiredness, breathlessness and unusual and frequent bleeding.
The 2014 Blenheim Palace Triathlon will take place on 7 and 8 June. Last year over 7,000 triathletes participated.