Road closed by Oxford 'fatberg' reopens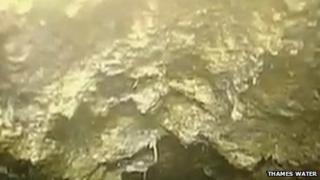 A road has reopened after a sewer pipe damaged by a "fatberg" was repaired earlier than planned.
Hollybush Row in Oxford was closed on 7 April because of damage caused by the fatberg, a large lump of congealed food fat mixed with wet wipes.
Thames Water said its team of "fatberg-fighters" had managed to blast it away using a high-pressure water jet.
The road had been expected to stay shut for two weeks but reopened earlier, the firm said.
The closure of the city centre road near the railway station from the A420, Park End Street, has caused long traffic delays.
Last year, Thames Water removed a 15-tonne "bus-sized lump" of food fat mixed with wet-wipes and other materials in a sewer under Kingston-upon-Thames.