Didcot A Power Station site bought by Clowes Developments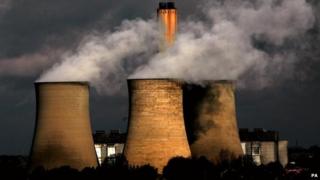 Part of the site of Oxfordshire's Didcot A Power Station has been sold to a developer.
The coal-fired facility was closed down by RWE npower in March 2013 after 43 years of service.
Clowes Developments (UK) Ltd has purchased 116 acres (47 ha) of land for "commercial and residential" use, but the value of the deal is confidential.
Steve Boughton, head of development at the energy company, said he was "pleased" with the sale.
"This disposal provides a fantastic opportunity to redevelop a substantial previously developed site close to the centre of Didcot," he added.
Towers demolished
Neil Harvey, from the developer, said he was "very excited" to secure land near to rail links with the West Coast Main Line.
He added: "The great news is that it will bring jobs to the area, both in terms of the build of all of the properties, and the ongoing jobs through those commercial enterprises."
Clowes Developments (UK) will submit a planning application in the autumn.
Three of the six towers at the south Oxfordshire site are set to be demolished later this year.
RWE npower will keep the rest of the Didcot A site, whilst Didcot B, an operational gas fired power station, is unaffected.