Oxford city centre 'fatberg' works cause traffic delays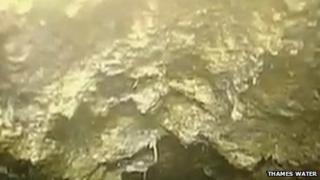 Work to remove a "fatberg" which is clogging up a sewerage pipe is causing traffic delays in the centre of Oxford.
The mass of fat and other materials has built up and hardened, causing the sewer under Hollybush Row to collapse.
Thames Water said the road would be closed for two weeks. A section outside the Royal Oxford Hotel is closed to traffic and diversions are in place.
Traffic problems have been exacerbated by the partial closure of Walton Street due to a hole in the road.
Dr Hannah Thompson, from Marston, said she missed her train from Oxford to Newcastle after getting stuck in traffic.
"We allowed plenty of time to get to the station but we had no idea it was going to take a few hours," she said.
'Foul sewer'
Oxfordshire County Council said it had warned motorists of potential delays.
It has advised people coming in to Oxford to make use of park-and-ride sites and allow extra time for journeys.
It said it had implemented traffic management measures, including opening the gap in Worcester Street, to "lessen the impact".
The council closed Walton Street southbound from Worcester Place to its junction with Beaumont Street at 16:00 BST "until further notice".
"Plans indicate that a foul sewer is located at that point and Thames Water will be carrying out an investigation," it said.
Anthony Crawford, of Thames Water, said sewers were "not an abyss for household rubbish".
"Fat goes down the drain easily enough, but when it hits the cold sewers, it hardens into disgusting fatbergs that block pipes."
He said the company spent £12m a year tackling blockages to pipes.
Last year, Thames Water removed a 15-tonne "bus-sized lump" of food fat mixed with wet-wipes and other materials in a sewer under Kingston-upon-Thames.