Oxford council homes fitted with solar panels in pilot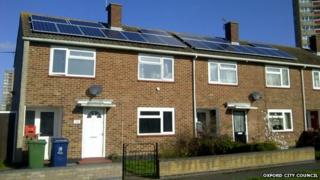 Five council houses in Oxford have been fitted with free solar panels as part of a project to save the city council money.
Officials hope the pilot scheme in Blackbird Leys will eventually "generate an income" for the authority.
If successful, it could be rolled out further and additional council housing stock is to be assessed.
Labour councillor John Tanner, board member for cleaner greener Oxford, said the scheme was "win-win" situation.
"Tenants benefit from free electricity during the daytime and reduced overall energy bills," he added.
"The council receives an income for producing the electricity and selling any surplus back to the grid through the government's Feed in Tariff scheme.
"The solar panels help to reduce the carbon footprint of the city by generating clean, green power."
Residents will be given timers and advised to use appliances during the daytime where possible.
The authority said the pilot properties were chosen on their suitability for solar panels in terms of orientation, shading, structural stability and roof type.
The solar photovoltaic (PV) systems, a total of 12kWp, were supplied and installed by Southern Solar.