Lightning causes Banbury Twenty cricket pavilion fire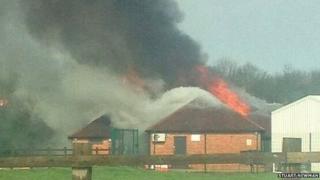 A cricket club pavilion has been destroyed by fire after it was struck by lightning in Oxfordshire.
Six fire engines are tackling the blaze at Banbury Twenty Cricket Club's pavilion in Ermont Way.
The fire started after lightning hit the roof of the 11-year-old building during a storm.
The club's fixtures secretary, Geoff Hawkins, said no-one had been injured in the blaze but that the pavilion had been "totally gutted".
Mr Hawkins, who was in the building when it was struck, said that "within five minutes, the roof had gone".
He said that "the whole history of the place has gone".
He added that the destruction of the £350,000 building would not affect the club's forthcoming matches.